A Grand Day out at Whistlebare
We are very excited to be launching Grand Days Out at Whistlebare!
We think we have come up with the perfect day out and would love to share one with you.  If you would like to visit our farm and meet our lovely animals as well as learn exciting new knitting skills with one of the best/nicest/maddest tutors around then read on……..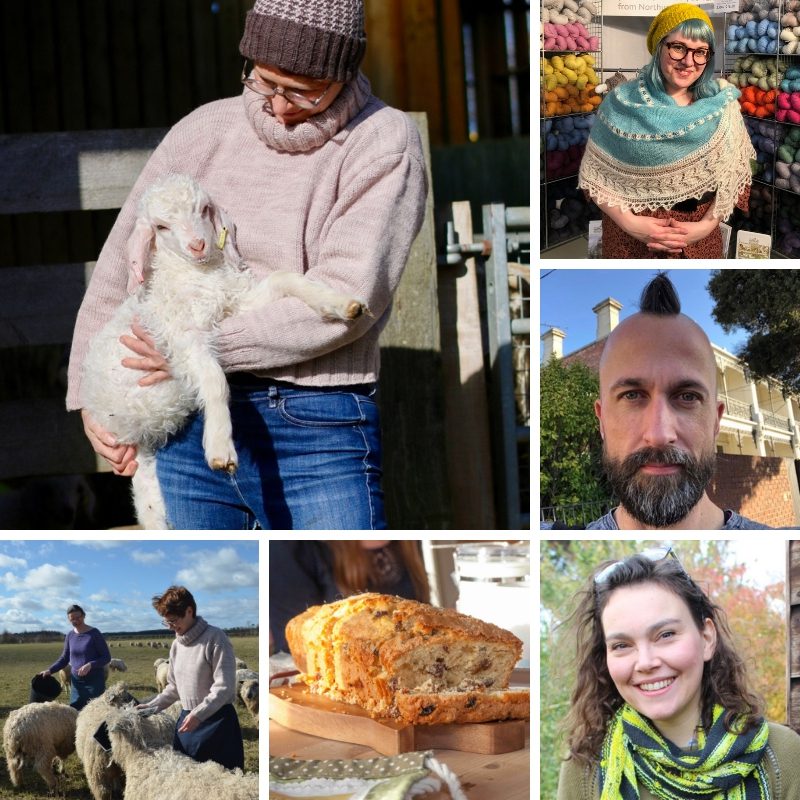 A Grand Day Out at Whistlebare
Karie Westermann. Karie is a well known international knitting tutor and designer whose influences from nature and literature are inspirational and we would happily knit everything she has ever designed. She loves bright colour palettes just like us, and we are very excited that she's joining us at Whistlebare. We are thrilled that Karie has designed our beautiful 'Canny Lass Shawl' with our very own Yeavering Bell 4ply to produce a pattern that she will teach at our workshops.  
Karie Westermann will be at Whistlebare on Saturday 24th May 2019 and Saturday 12th October 2019.
Maddie Harvey. Maddie is a freelance designer and knitting teacher, living and working in Edinburgh, UK. We met at a Christmas party hosted by Edinburgh Yarn Festival last year and she was great company and lovely to sit and chat and knit with. She creates bold and simple knitwear designs inspired by colour and geometry. We're passionate about colour at Whistlebare, we love it and it influences everything we create and so we're really excited to have Maddie teaching a choose colour workshop, this is a playful class where we will experiment with colour and texture to create colourful working swatches. After the class, students can use these swatches as reference points for their next multi-coloured project. In the afternoon the workshop will be based on the pattern Maddie has designed for us using a combination of our Yeavering Bell 4ply and our Cheviot Marsh 4 ply.
Maddie will be joining us on Saturday 6th July 2019.
Nathan Taylor. Nathan who is known in the knitting world as 'Sockmatician', travels all over the globe passing on his knitting skills. His podcast on YouTube includes chat about his travels and his teaching, and of course Double Knitting, a technique for creating a reversible, two-sided fabric in two or more colours. Nathan says "I'm passionate about Demystifying Double Knitting, and letting people know that it really isn't frightening at all, and that if you can knit and you can purl, then you can do Double Knitting." Nathan will be teaching a Demystifying Double Knitting workshop here at Whistlebare using our Cheviot Marsh yarns.
Nathan is joining us at Whistlebare on Saturday 22nd June 2019.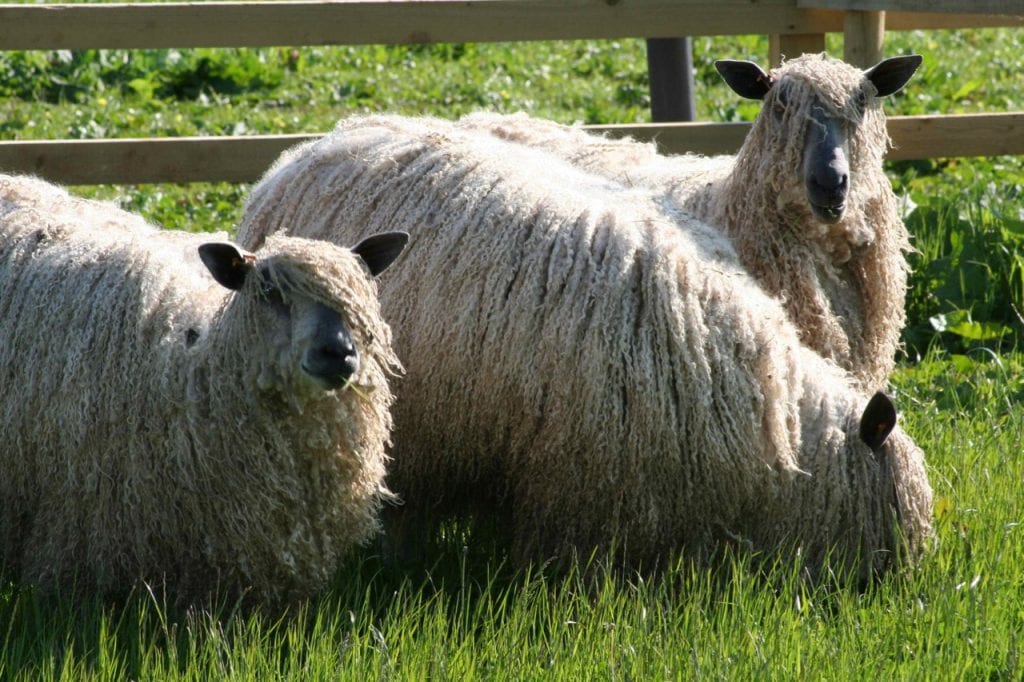 A Grand Day out itinerary
On arrival we meet in the Studio to choose yarn for the day, and enjoy tea/coffee and homemade cake from the farmhouse kitchen.
This will be followed by an easy farm stroll to meet the goats and the sheep and learn a little about their husbandry and care.  Angora goats are wonderfully friendly and inquisitive. We often have a few hand reared kids / lambs that love nothing better than to give cuddles. You can also meet our small herd of dairy goats, our shetland sheep and our rare breed hens and pigs, and ask any questions you have about the farm.
Lunch will be homemade soup with bread and local cheese and more homemade cakes. Please let us know of any dietary requirements in advance.
In our studio, on the farm, you can see all of the yarns that we produce and choose the colours for your knitting project. Choosing colours is lots of fun and Alice has a reputation for being a "colour whisperer" and will help you choose the colours that will really suit you.
With expert tuition from our visiting tutors you will begin your knitting project, we're really excited about the tutors who are coming and think they will help make this a truly special day.
The Whistlebare story.
We have been producing yarn since 2012 on our small family farm in north Northumberland where we keep pedigree flocks of Angora Goats, for their fine mohair fleece and Wensleydale Sheep for their high lustre longwool.  We also have a new flock of Shetland Sheep which we are breeding with a Bowmont Merino to produce a yarn that will be soft and luscious. Our natural yarns from Whistlebare are produced with the utmost care for quality and beauty, and with concern for animal welfare and environmental impact, from using solar panels to produce electricity to heat the water used dyeing the yarn, to using recyclable materials to package our parcels. The newly built barn workshop space is built of hempcrete which is a mix of lime and hemp rather than concrete and is breathable and naturally super insulating, the timber frames and the floors have all been sourced from our local saw mill,  and the outside of the building is Larch which doesn't require any weather treatment. Our Angora goats are sheared by us here on the farm twice a year, their curly fleece is then combined with the fleece from our Wensleydales and goes from the farm to Yorkshire for scouring, combing and spinning into our Yeavering Bell yarn.  Back on the farm the yarn is then hand dyed by Alice in small batches, to create our signature palette which includes both subtle delicate pastels and bold dramatic jewel tones. Our Cheviot Marsh yarn is a woollen spun lambswool yarn that is a blend of Cheviot and Romney, from the local Cheviot Hills, also hand dyed here on the farm in our palette of Whistlebare colours.
Visit Northumberland
Whistlebare is located in North Northumberland which is the northern most county in England and is composed of miles and miles of beautiful beaches, wonderful wildlife, dramatic landscapes, forests, hills, dark skies, Roman walls and magical castles.
We are within sight of the glorious Cheviot Hills of the Northumberland National Park, and the some of the most dramatic beaches in England.  Just 8 miles from the Holy Island of Lindisfarne, 25 miles north of Alnwick (home of Hogwarts Castle) and 10 miles south of Berwick upon Tweed.  Why not make a weekend of it, we can recommend accommodation for you.
Getting to Whistlebare – Whistlebare is easily accessed by car or train.
By Car. Whistlebare is 10-15 minutes drive from the A1.  Travel time by car: York 3 hours, Edinburgh 1.5 hours,  Manchester 4 hours, London 6 hours.
By Train. The nearest station is Berwick upon Tweed on the East Coast Main Line which provides a fast and regular train service from London to Edinburgh and there are taxis available from the station.  We can help arrange taxi sharing if you let us know.  Travel time by train: Newcastle 45 minutes, York 2 hours  Edinburgh 45 minutes,  Manchester 3.5 hours, London 4 hours.
We'd love to welcome you to Whistlebare for a Grand Day Out, please email us at studio@whistlebare.com if you have any questions.
or click here to book your Grand Day Out.