Chronicles of a creative life – A New Working Wardrobe…overalls or not?
A while ago I talked to you about my struggle with stuff and my aim to achieve William Morris' target of "Have nothing in your house that you do not know to be useful or believe to be beautiful.' As you may expect our progress towards this goal is slow and comes in fits and starts but it has got me thinking. As a farmer, businesswoman and generally busy human being perhaps I focus on the useful rather more than on the beautiful? Worse than that I think that I may have unconsciously come to believe that practical and beautiful are mutually exclusive of one another. For example, most days will find me dressed in overalls which are very practical for farming. Of course livestock require care seven days a week, that is seven days of overall wearing a week. I am not hankering after designer clothes nor do I want to wear a new outfit every day, I find the current fashion for 'disposable' clothes nothing less than appalling. That said, are overalls the only practical solution? Surely there are many alternatives that are comfortable, washable and hard wearing? Warm, comfortable, (hand) washable and hard wearing we have already got covered. What better than beautiful, natural wool and mohair? So instead of wearing budget bought 'fleeces' with all their connected environmental issues I'm going to wear some simple jerseys knitted from our yarns. I believe that natural fibres are beautiful in themselves and are the most pleasant to wear. Our woollen yarn, Cheviot Marsh, is from very hardy breeds of sheep and so their wool, even their soft lambs' wool, is robust enough to tackle daily wear. Mohair of course, has the highest rub test of any natural fibre and so is super hard wearing. For my new working wardrobe I am going to focus on our Cheviot yarns as they are born from the hills surrounding our farm and have been keeping the farmers therein warm for centuries.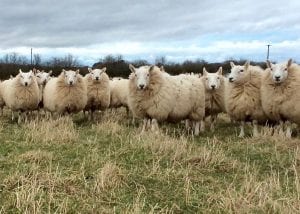 I already have three very nice jerseys knitted out of our cheviot yarn. Kate Davies' cropped, boxy 'Carbeth', Isabell Kraemer's slouchy, unisex 'Daelyn' and our very own 'Tweedy 1' upscaled for adults – more on that another day. I'm thinking of knitting Jonna Hietala's 'Mon Manet' as I very much enjoyed knitting her 'Nuuk' and a similar long sleeved version would be really useful here in Northumberland's summer! If you have knitted Mon Manet I would love to hear your opinion of it or any other suggestions of patterns that would suit our cheviot yarn and a busy working lifestyle. I would also love to hear any suggestions about balancing practical considerations with your daily style.