Chronicles of a creative life – Adventures in colour work
by Tess.
Last autumn Whistlebare went on it's first international trip to the Oslostrikkefest in Norway – home of truly amazing colour work knitting.
My parents met in Norway and whilst there my mum learnt to knit all of the traditional designs and throughout my childhood would produce intricate and colourful jumpers and mittens for us to wear. I would watch as her fingers moved impossibly fast, and ask her to teach me, but I could never ever quite see what was going on and she seemed unable to go any slower so I could…..
Fast forward a "few" years and with the trip to Oslo booked I was determined I was going to finally master the art of knitting with more than one colour, and create for myself some Norwegian knitwear. And there came the first problem. Oh so much choice. Finally I decided that fingerless mittens would be the simplest place to start, and fell in love with a pattern by Skeindeer Knits called Yggdrasil which means Tree of Life in Norse Mythology.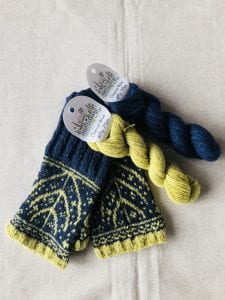 I used our Cheviot Blue 4ply yarn, in the colours "All at Sea", and "Gilded Stone". (I forgot to take the third colour with me, and had to adapt the pattern. – First lesson in colourwork learnt – take all your colours!) As a first timer colour work knitter I held both colours in one hand and switched back and forth as required. I soon learnt the importance of yarn dominance which makes one colour stand out more than the other depending on whether the yarn is held above or below. Also critical in colour work is the tension of the floats – the strands of yarn running across the back of the knitting….. As with all knitting the more I did the better I got at it, so by the time I finished mitt two there was a significant improvement in my tension and one mitt is vastly better than the other, but I love them, and wear them ALL the time.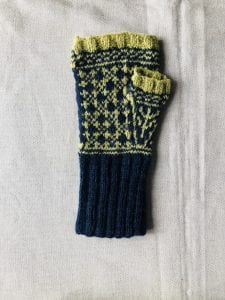 For this my first experience at colour work knitting there were both pros and cons to my choice of pattern. I loved watching the tree emerge on the back of the hands, but I found the repeating nature of the traditional pattern on the palm much easier to manage. Knitting on dpns on a small project and mastering holding two strands of yarn felt a bit clumsy to start with, but it got easier!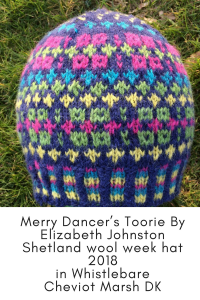 In March at Edinburgh Yarn Festival we launched our newest yarn Cheviot Marsh. Like Cheviot Blue, this yarn is woollen spun and perfect for colour work, and the blend of Cheviot and Romney Marsh lambswool creates a gorgeous bouncy and crisp feel. As in recent years, the latest Shetland Wool week hat pattern was also launched at Edinburgh, and it wasn't long before I was planning colour work project number 2! Merrie Dancers Toorie was designed for Shetland Wool week by Elizabeth Johnston and the pattern depicts the Northern Lights against the dark night sky.
Seeing the Northern lights is one of my lifelong ambitions, so far living in Northumberland I've been lucky enough to have been treated to a faint green tinge to the horizon, a deep dramatic reddish colour seen from my back garden and a night of watching streaks of pale colours dance across the sky, whilst parked in a lay-by in the freezing cold! One day I hope I'll make it further north – to Finland perhaps, to see them in all their glory.
Meanwhile I created my own, in Cheviot Marsh DK with a night sky of deep inky blue "All at Sea", and bravely for me, I picked out some really bright colours to contrast against the navy of the sky, "Enchanted" "Fairy glen" "Spring tide" and "Gilded stone".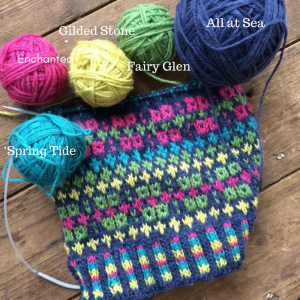 For this project I was determined to learn to hold the different colours in different hands and with youtube tutorials on repeat soon I was whizzing round, changing colours and creating even floats. This pattern is fantastic for beginners, knitting a hat on a round needle is so simple, and the repeating pattern, and the frequent colour changes made it a really quick knit because I always had to knit just one more colour before stopping….. I'd love to knit another one, and I think the hardest part would be what colours to choose next time.
So now I've truly fallen down the colour work rabbit hole and my Ravelry favourites page is filled with sweaters with colourful yokes or decorative hems, and the only thing holding me back is choosing which one. Right now I'm struggling to choose between
Vintersol by Jennifer Steingass,
and Vinterfjell by Skeindeerknits.
so many choices…..