by Tess.
I am someone who always has cold hands, and therefore always needs a pair of mittens.
I am however, fairly hopeless at keeping track of said mittens, and so need several pairs so that I can find some when I need them! Here are some of the patterns I've been admiring recently, just in case you are in need of a little mitten inspiration, or if you are always have cold hands/keep losing your mittens too! The first few patterns have all been knitted in Whistlebare yarns, and I love them all!
These are the ZigZag Fingerless Mittens (ravelry link) which were knitted by one of our lovely yarn ambassadors in our Cheviot Marsh Aran. Sally used Granite and Spring Tide to knit these gorgeous and dramatic mitts which are fun both to knit and to wear! The pattern is from Whole Earth Education and it's a free pattern available on Ravelry and you will need just two skeins of Cheviot Marsh Aran. Knitted flat – perfect for those who don't like knitting in the round, the pattern is described as "adventurous beginner", which means you'll be introduced to one or two exciting new stitches in this pattern.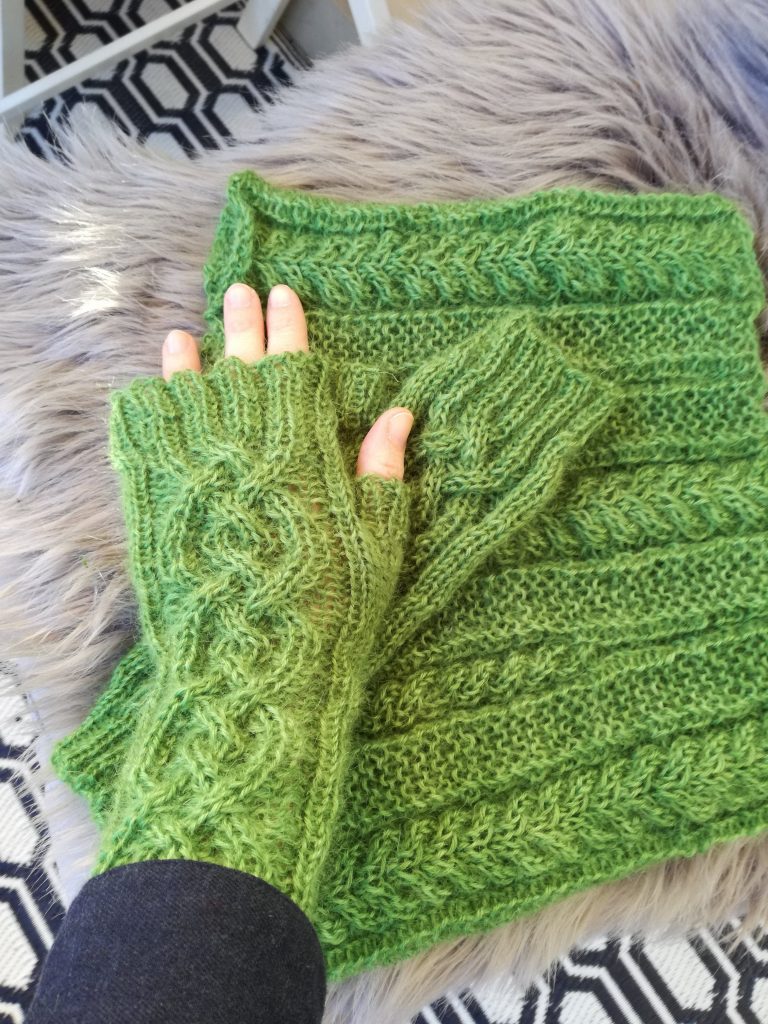 These are the Vancouver Fog Mitts (ravelry link) in Yeavering Bell Aran in Sheep's Chomp. This lovely cable mitt pattern was knitted by Antonia and is seen here with Forest park cowl by Liz Abinante, also in Yeavering Bell Aran.
I do love a nice cable!
Carol knitted these gorgeous Henceforth by Hunter Hamerson (ravelry link) mitts. The beautiful knitted leaf design in these mitts shows up wonderfully, and they were knitted from one skein of Cheviot Marsh Aran – seen here in All At Sea.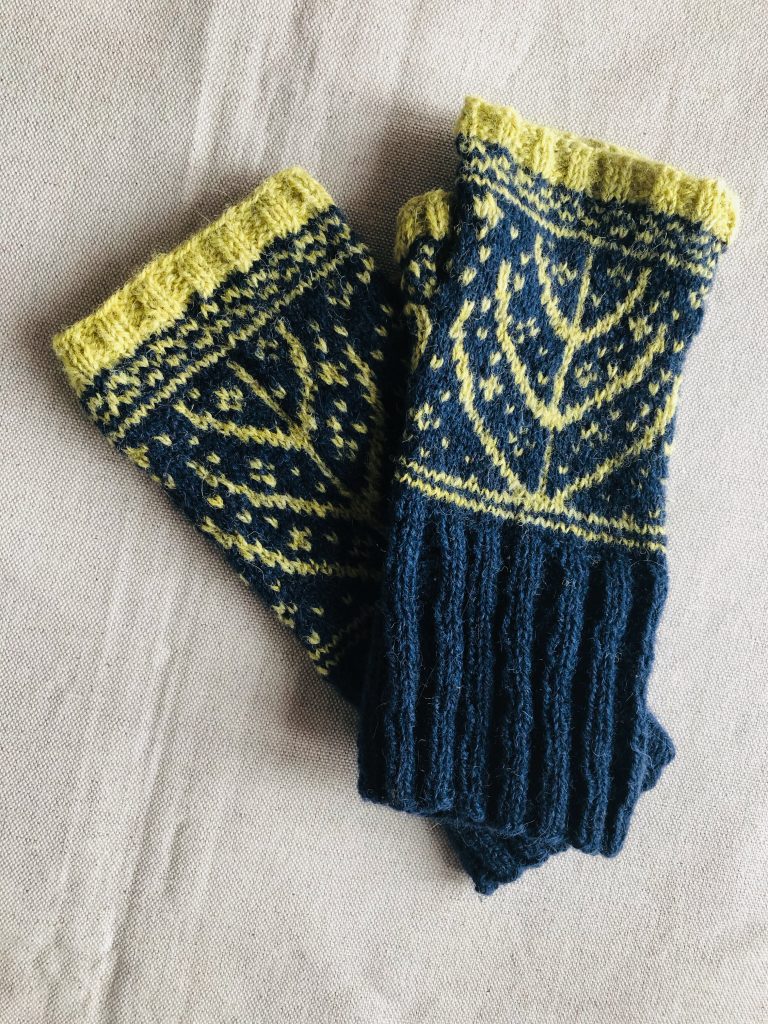 I knitted these Yggdrasil mitts by Skeindeer Knits (ravelry link) whilst travelling to the Oslostrikke Festival. The Norwegian inspired design seemed like a perfect introduction to my first ever colourwork. Knitted using Cheviot Marsh 4ply I used All at Sea and Gilded stone, and it took just a couple of mini skeins on each main colour (I forgot to take a 3rd colour, hence mine only have two- the pattern uses a very tiny amount of another colour – one mini would be plenty)
The following patterns have been recommended to us, and I think they are gorgeous.
Firstly these are the Pioneer Gloves (ravelry link) – a 4ply ribbed mitt by Kelly Mclure recommended by Jane – one of our newsletter subscribers. She says she loves the fit of these, the ribbing is super stretchy, so they're really snug, and the long cuff really helps keep your hands warm. I think Cheviot Marsh 4ply would be lovely for these.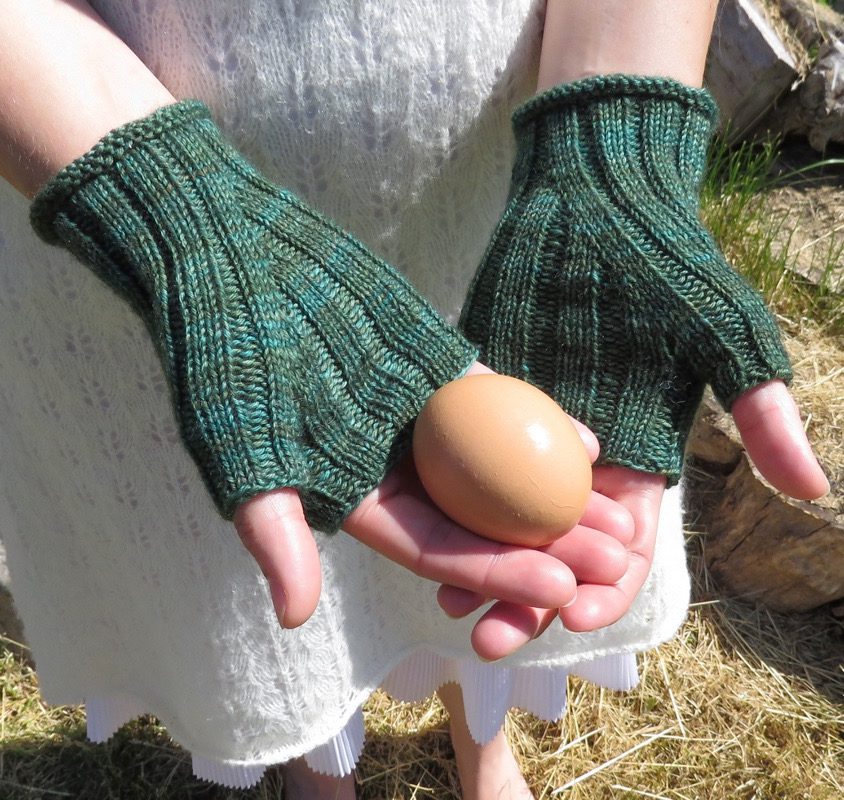 The Tin Can Knits patterns – Worlds Simplest Mittens was recommended to us by Gemma. These look like the perfect beginner knit, and the pattern comes with a full tutorial on how to knit them. Quick to knit and easy to master. What could be better? One skein of DK or Aran would knit your very first mitten!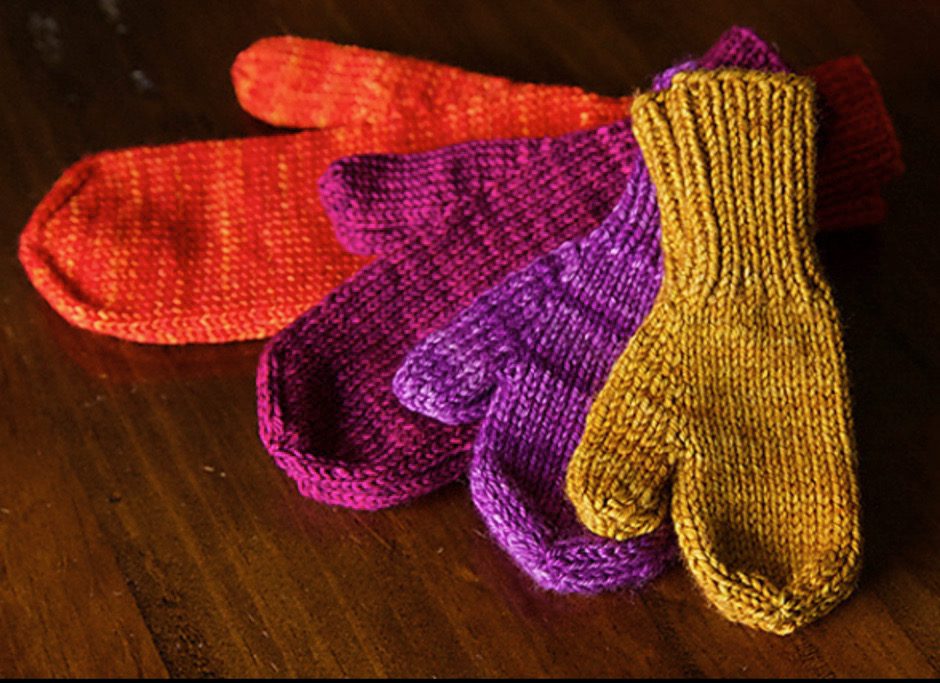 The beatiful Botanica Mitts by Alfa Knits (ravelry link)were also recommended by Gemma. These incredible colour work mittens have the most beautiful floral designs, and the pattern comes with 8 variations plus the option of fingerless or with fingers. Tips on colour choices and stranded knitted are included. I think these would be incredible knitted in our Cheviot Marsh 4ply, our mini skeins would be perfect for trying out lots of different colours and I just need to choose which I like best before I cast on!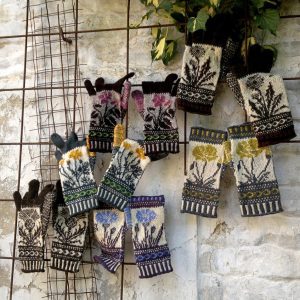 Last but certainly not least these are the ever so adorable, oh so sheepy Baable Mittens (ravelry link). Fans of Shetland wool week, or indeed just fans of colour work may well already be familiar with the wonderfully popular Baable Hat which was designed for Shetland Wool Week 2015 by Donna Smith. What you may not realise is that there is also the most adorable pattern for co-ordinating mittens and a cowl. I think these are just the cutest introduction to mitten knitting, and the Aran weight yarn and the firm tension means they will may just the cosiest mitts you will ever knit. To knit the mittens and co-ordination cowl would take just 4 skeins of Cheviot Marsh Aran – Natural and Granite are the obvious sheep colour choices and then you would just need to choose a land colour and a sky colour. Fairy Glen and Longitude perhaps, or Anemone and Spring Tide.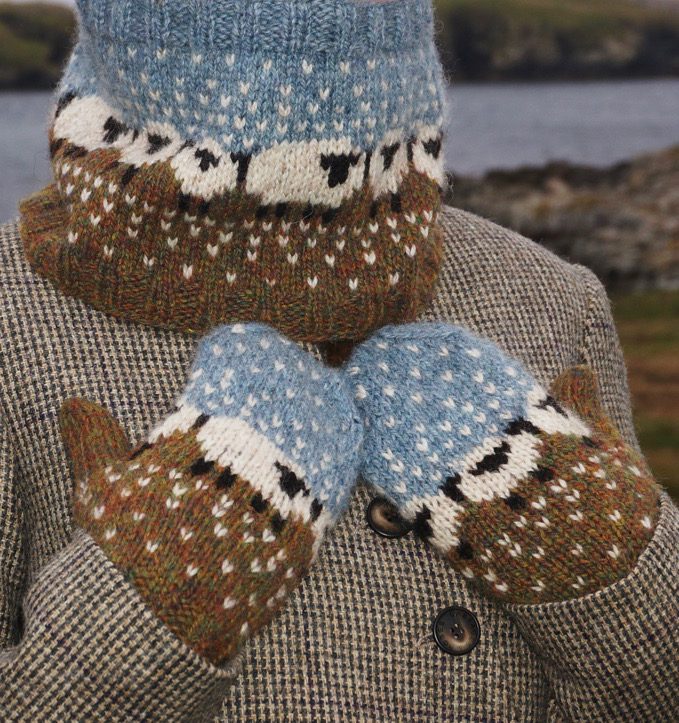 I do hope you've enjoyed a little mitten inspiration. Happy Mitten Knitting x