Yarns around Northumberland – Shindig Shawl and Salmon Fishing
Welcome to the sixth instalment of our 'Yarns Around Northumberland'
There has been salmon fishing on the River Tweed since the time of the Scottish Chief Calgacus, who was defeated by the Romans in about AD85. The first fisheries are recorded in the 12th Century when the Bishop of Durham gave the fishery of Haliwarstelle (Hallowstell or holy mans fishery at Spittal) to the monks of Holy Island.
The traditional method of netting wild Atlantic salmon still used on the Tweed at Berwick is by means of net and coble.
The coble is a small 1 or 2 man flat-bottomed rowing boat with a high pointed bow which is rowed out from the bank of the river in a semi-circle, while the net is "shot" from the stern, the boat is the rowed back to the shore and net immediately drawn in by the rest of the crew standing on the shore.
Two centuries ago, before ice became easily available, most of the salmon was pickled, salted and packed in barrels by the Berwick coopers to be taken by sea to London. At one time catches were so abundant, it is said that servants complained of having to it too often!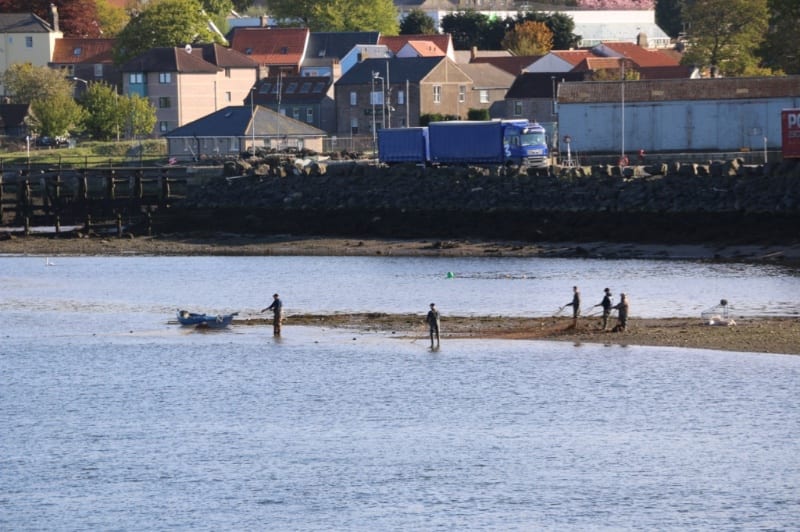 As well as the legal fishing of salmon on the Tweed there has always been poaching. It is said that James Ist of Scotland (1406-1437) imposed severe penalties for the illegal 'slauchter of Salmonde' and if convicted a third time, the wrong doer 'sall tyne (forfeit) his life or then bye it'.
The tools of a salmon poacher were a semi-circular pout net with which to sweep the water and a leister. A leister could be a spear with a fork or trident of barbed prongs, or a throwing leister which had five prongs and a rope attached, fastened to the thrower's arm to bring his speared catch to the bank.
Night poaching from boats, using leisters, was called "burning the water", metal baskets on the boats were filled with fragment of tar barrel and rags steeped in pitch and were set alight, and the bright blaze attracted the fish to the surface of the water.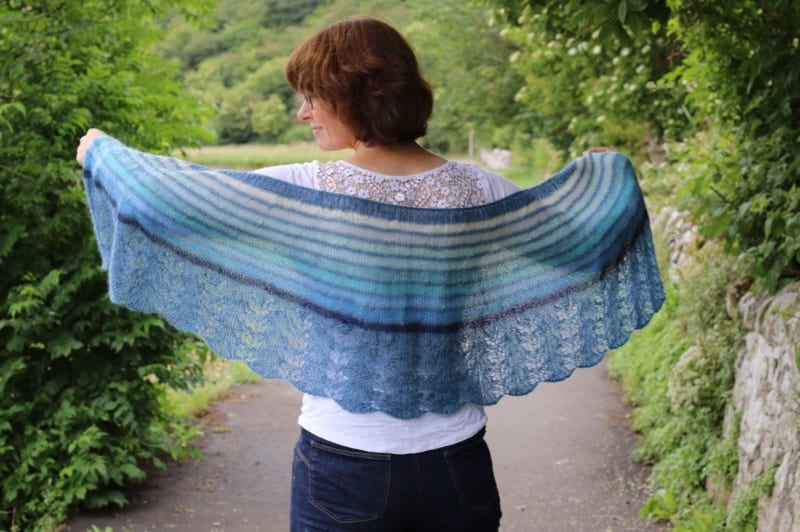 Shindig Shawl from pompom quarterly 5th Anniversary edition. Designed by Sachiko Burgin, Shindig is knitted from the bottom edge upwards, beginning with the lace section before working a striped pattern with decreases to the top edge. The curve of this crescent shawl is perfect for wrapping and layering and we love the juxtaposition of the stripes with the elegant fancy lace motif.
We knitted this in 4ply using Beneath the Bridge for the lace section and a gradient of blues for the stripes.
To make a striped version similar to ours you would need one full sized skein of Yeavering Bell 4 ply and four mini skeins, or alternatively as the pattern suggests, it looks beautiful with two contrasting skeins. Rockpools Edge and Natural would recreate the original design perfectly.